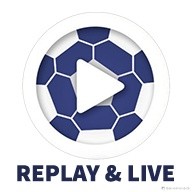 Football Replay & Live
Deskripsi
Football Replay & Live Android APP
Relive the world's best soccer matches
Football Replay & Live is one of those apps you didn't know you needed, but now don't want to go without. It's designed especially for any soccer lovers out there because of what it offers when it comes to covering the latest soccer news the world over.
Divvying up each individual league, Football Replay & Live gives you the option to follow play-by-plays live or catch those replays you missed. Its intuitive interface and highly minimized aesthetics make this app easy to use and accesible to almost anyone without overwhelming visuals. Now you can browse mass amounts of info on soccer teams worldwide with this simple, alphabetized index with each and every league and major soccer championship. Plus, you get a MISC tab where you can find out loads of random trivia and fun facts as well as funny videos.
In order to use Football Replay & Live, all you have to do is pick out which cup or league you're interested in and select the game you're looking for. Regardless of whether they were commentated via specialized soccer programs or if you're looking for a quick video, it's here.
Football Replay & Live is the perfect app for anyone who cherishes the title of being a true soccer fan, or for those who just like to keep informed on their favorite teams and matches. Give yourself some time to get the latest on soccer news, for sure you'll find out fun stuff on your favorite players.
RequirementsRequires Android 4.1 or higher
maklumat
maklumat
Ringkasan Kajian
Saat ini tiada ulasan untuk aplikasinya
Anda mungkin juga berminat:
Perkhidmatan Aplikasi Android disediakan oleh PHONEKY dan 100% percuma!
Aplikasi boleh dimuat turun oleh Samsung, Huawei, Oppo, Vivo, LG, Xiaomi, Lenovo, ZTE dan telefon bimbit OS Android yang lain.
Maklumat halaman:
Muat turun aplikasi Football Replay & Live ke telefon bimbit Andorid anda - salah satu aplikasi Android terbaik secara percuma! Anda pasti akan menikmati ciri-ciri menariknya. Di PHONEKY Android Apps Store, anda boleh memuat turun aplikasi mudah alih versi penuh percuma untuk mana-mana telefon atau tablet percuma. Ciri-ciri yang bagus dan berguna dari aplikasi ini akan menjadikan anda terpesona untuk masa yang sangat lama. Di PHONEKY, anda akan dapati banyak aplikasi dan permainan lain genre yang berbeza, dari Pendidikan dan Hiburan untuk aplikasi Android Keselamatan dan Navigasi. Muat turun aplikasi Android percuma ke telefon bimbit, tablet atau komputer Android OS anda. Untuk melihat Top 10 aplikasi terbaik untuk Android, hanya menyusun apl mengikut populariti.
OK