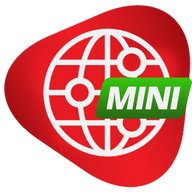 Aon Browser, Adblock Plus Mini
Deskripsi
Aon Browser, Adblock Plus Mini Android APP
Browsing tanpa iklan, lebih aman dan lebih cepat. Aon Mini adblock peramban plus
Aon Ad block plus browser for Android is mini browser that blocks all annoying ads all over the web: remove video ads, popups and banners. Browse faster, safer without ads. Save your data, battery and time by using Aon Ad block plus mini browser.
Main Features of V2.0.0
★ Fast and easy to use
★ Ultra compact uc browser and mini size
★ Ad block plus, for filtering ads
★ Facebook, Twitter, Instagram and other social media without app installation.
★ Smart downloads with Advanced Download Manager
★ Night Mode, shade the screen to save your eyes
★ Incognito Browsing for your privacy.
★ More efficient blocking advertising expreience with Live and Localized ad filters
★Advanced Bookmark Management allow folder and sub folders
★ Customizable UI with themes and auto, fix, full screen url bar, navi bar options
★Specifically designed web browser for Android Tablets
★Popup Blocker : block unwanted pop-up Windows
★Block List / Blacklist : Block all pishing, malware or scareware advertising web sites or popups and you will never see them again.
★Privacy & Security : block annoying ads, disable tracking and block domains known to spread malware
Tabs on top, best user experience while exploring internet
Groupped Tabs : Pull together web pages they have same domain.
★It is mini and ultra compact (UC) because, apk size is just 6 MB
Adblock plus for Android
: Aon presents best web browsing experince thanks to its advertising filter techniques. You will explore the web, cosily in your opera box not on an ordinary seat. It has special filters for rectangle, leaderboard, half page, skyscrapper, interstitial, square, billboard, panorama and other banner / ads types.
Browse privately - Incognito Mode
- We all have pages we don't want to remember visiting. If you don't want something saved in your history, you can browse incognito with private tabs.
For Tablets
Aon also developed for android tablets. You will have a fast one of web browsers for android tablets that support 3G or 4G connection. It doesnt matter 3G, 4G, 5G.
Save Data
- reduce mobile data usage by up to 50% while browsing
Faster Browsing
- choose from search results that instantly appear as you type and quickly access previously visited pages
Add to Speed Dial
- Add the sites you visit most to your mobile home screen with a single click.
Search intelligently
Aon internet explorer supports 10 search engine. Yahoo, Yandex, Baidu, Bing, Duck duck go etc. Default search engine is Google.
Organize your web : Tap the + button on the url bar to add a page to Speed Dial, Also you can add it to your mobile bookmars or save pages read it offline.
* Sharing - Super-easy and intuitive ways to share mobile contents through Facebook, Twitter, Email, SMS and other social media channels.
*Uses the Native JavaScript and WebKit Engine so file size is smaller
Install now and enjoy your new generation free Aon ad blocker plus for android
★%100 Free ★ Ad blocker
Keep in touch
Facebook - www.facebook.com/aon.adblock.uc.browser.mini/
Extension for Chrome, UC Browser, Opera Mini, Opera Browser, Firefox, Yandex and Baidu
chrome.google.com/webstore/detail/aon-adblock-mini/nldifmjnaeokhdgcmlmfnhcnalapdjbg
maklumat
maklumat
Ringkasan Kajian
Saat ini tiada ulasan untuk aplikasinya
Anda mungkin juga berminat:
Perkhidmatan Aplikasi Android disediakan oleh PHONEKY dan 100% percuma!
Aplikasi boleh dimuat turun oleh Samsung, Huawei, Oppo, Vivo, LG, Xiaomi, Lenovo, ZTE dan telefon bimbit OS Android yang lain.
Maklumat halaman:
Muat turun aplikasi Aon Browser, Adblock Plus Mini ke telefon bimbit Andorid anda - salah satu aplikasi Android terbaik secara percuma! Anda pasti akan menikmati ciri-ciri menariknya. Di PHONEKY Android Apps Store, anda boleh memuat turun aplikasi mudah alih versi penuh percuma untuk mana-mana telefon atau tablet percuma. Ciri-ciri yang bagus dan berguna dari aplikasi ini akan menjadikan anda terpesona untuk masa yang sangat lama. Di PHONEKY, anda akan dapati banyak aplikasi dan permainan lain genre yang berbeza, dari Pendidikan dan Hiburan untuk aplikasi Android Keselamatan dan Navigasi. Muat turun aplikasi Android percuma ke telefon bimbit, tablet atau komputer Android OS anda. Untuk melihat Top 10 aplikasi terbaik untuk Android, hanya menyusun apl mengikut populariti.
OK