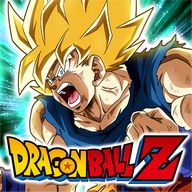 DRAGON BALL Z DOKKAN BATTLE
Deskripsi
DRAGON BALL Z DOKKAN BATTLE Android Game
Permainan Dragon Ball
DRAGON BALL Z DOKKAN BATTLE is the one of the best DRAGON BALL mobile game experiences available. This DB anime action puzzle game features beautiful 2D illustrated visuals and animations set in a DRAGON BALL world where the timeline has been thrown into chaos, where DB characters from the past and present come face to face in new and exciting battles! Experience the new story and save the world of DRAGON BALL!
DRAGON BALL Z DOKKAN BATTLE features a super refreshing and simplistic approach to the anime action genre! The epic anime-like battles feature simple yet addictive gameplay. Link Ki spheres during battle to attack your foes! Take your time and play at your own pace, it's the perfect DB game to play on the go wherever you are! When you are ready and powered up, finish your enemies with powerful Super Attacks such as Super Saiyan Goku's Kamehameha and many more to send enemies flying!
All of your favorite characters are here from all your favorite DRAGON BALL anime series! From DBZ to DBS, everyone's favorite Saiyan, Goku and his friends are ready to battle Frieza, Cell, Beerus, Jiren, and more! Summon your favorite DB characters and create the ultimate dream team(s)! Train and Awaken DB characters to power them up!
Help return order to the DRAGON BALL timeline through Quest mode. Experience reimagined popular anime stories with DB characters new and old. Play in Dokkan Events and the World Tournament and face off against tough enemies! And for true hardened fighters, the challenges of Extreme Z-Battle and Super Battle Road await!
SIMPLE ADDICTING GAMEPLAY
• Featuring a new take on the action puzzle game genre
• Tap and link Ki Spheres to attack and enter Dokkan Mode to finish foes!!
• Play at your own pace, planning your battle strategy is key
FINISH FOES WITH SUPER ATTACKS
• Collect enough Ki Spheres to activate Super Attacks just like the anime
• From Goku's Iconic Kamehameha attack to Vegeta's Final Flash, all your favorites are here
• Experience them all in epic 2D illustrations and animations
YOUR FAVORITE DRAGON BALL CHARACTERS ARE HERE
• From DBZ to DBS, many popular DB characters are available
• Summon new and classic favorites such as Super - Saiyan God SS Goku, Vegeta, Krillin or rivals such as Frieza, Cell, Beerus, and Jiren plus more from the popular anime series
FORM YOUR TEAM OF POWERFUL WARRIORS
• Organize your DRAGON BALL team and create the strongest fighting force!
• Train your favorite DB characters and Awaken them to new realms of power!
A NEW DRAGON BALL STORY
• Bring order to the DRAGON BALL timeline
• Play the board game-style map and all-new story with your favorite Dragon Ball characters!
• Experience reimagined stories with DB characters new and old
Are you ready to go even further beyond? Download one of the best DRAGON BALL experiences available with DRAGON BALL Z DOKKAN BATTLE today for free!
SUPPORT:
bnfaq.channel.or.jp/contact/faq_list/1624
BANDAI NAMCO Entertainment Inc. Website:
bandainamcoent.co.jp/english/
By downloading or installing this app, you agree to the BANDAI NAMCO Entertainment Terms of Service.
Terms of Service:
legal.bandainamcoent.co.jp/terms/
Privacy Policy:
legal.bandainamcoent.co.jp/privacy/
Note:
This game contains some items available for in-app purchase that can enhance gameplay and speed up your progress. In-app purchases can be disabled in your device settings, see
support.google.com/googleplay/answer/1626831?hl=en for more details.
Powered by 'CRIWARE'.
CRIWARE is a trademark of CRI Middleware Co., Ltd.
This application is distributed under the official rights from the license holder.
©BIRD STUDIO/SHUEISHA, TOEI ANIMATION
©BANDAI NAMCO Entertainment Inc.
maklumat
maklumat
Ringkasan Kajian
Saat ini tiada ulasan untuk permainan ini
Anda mungkin juga berminat:
Perkhidmatan Permainan Android disediakan oleh PHONEKY dan 100% percuma!
Permainan boleh dimuat turun oleh Samsung, Huawei, Oppo, Vivo, LG, Xiaomi, Lenovo, ZTE dan telefon bimbit OS OS Android yang lain.
Maklumat halaman:
Muat turun permainan DRAGON BALL Z DOKKAN BATTLE ke telefon bimbit Andorid anda - salah satu permainan Android terbaik secara percuma! Di Pasar Permainan Android PHONEKY, anda boleh memuat turun permainan mudah alih untuk mana-mana telefon atau tablet dengan percuma. Grafik yang bagus dan permainan ketagihan akan membuat anda terhibur untuk masa yang sangat lama. Di PHONEKY, anda akan menemui banyak permainan dan aplikasi lain dari genre yang berbeza, dari pengembaraan dan tindakan ke logik dan permainan Android apk balap. Muat turun permainan dan aplikasi Android percuma ke telefon bimbit, tablet atau komputer anda. Untuk melihat Top 10 permainan terbaik untuk Android, hanya menyusun permainan dengan populariti.
OK
Permainan ini memerlukan data tambahan untuk dimuat turun selepas dipasang!
OK
Permainan ini adalah NES retro lama, SNES, GBA, N64 atau PSX ROM yang anda boleh mencontohi / jalankan pada Peranti Android anda!
OK