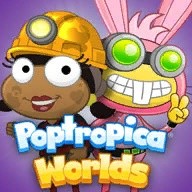 Poptropica Worlds
Deskripsi
Poptropica Worlds Android Game
Discover the worlds of Poptropica and help their inhabitants
Poptropica Worlds is an incredibly fun action and adventure game that's geared toward a younger audience. Here, you get to create your very own character with all the characteristics you want, and then explore the different islands of Poptropica.
Poptropica Worlds begins with the creation of your avatar: you can choose the color of the hair and skin, type of clothes, accessories, etc. Once you've created your character, the adventure into the worlds of Poptropica begins. The first thing you'll do is climb into a blimp that will take you to the various islands. You can travel to the Greek islands and help characters from the Odyssey, an island with caves, or the main city of Poptropica. In each of these places, you'll get to experience unique adventures.
When you reach each island, you have to interact with the characters who live there. They'll tell you what they need and you can help them. All this will be added to your mission notebook, so you don't forget what you have to do. When you complete the missions, you'll get rewards to decorate your house, unlock doors, and customize your character even more.
The missions that you have to complete include collecting elements from the map and completing complex puzzles. All this, with an outstanding design and charming characters.
Poptropica Worlds is the perfect adventure game for both children and adults to enjoy as they discover new and interesting worlds.
RequirementsRequires Android 4.0.3 or higher
maklumat
maklumat
Ringkasan Kajian
Saat ini tiada ulasan untuk permainan ini
Anda mungkin juga berminat:
Perkhidmatan Permainan Android disediakan oleh PHONEKY dan 100% percuma!
Permainan boleh dimuat turun oleh Samsung, Huawei, Oppo, Vivo, LG, Xiaomi, Lenovo, ZTE dan telefon bimbit OS OS Android yang lain.
Maklumat halaman:
Muat turun permainan Poptropica Worlds ke telefon bimbit Andorid anda - salah satu permainan Android terbaik secara percuma! Di Pasar Permainan Android PHONEKY, anda boleh memuat turun permainan mudah alih untuk mana-mana telefon atau tablet dengan percuma. Grafik yang bagus dan permainan ketagihan akan membuat anda terhibur untuk masa yang sangat lama. Di PHONEKY, anda akan menemui banyak permainan dan aplikasi lain dari genre yang berbeza, dari pengembaraan dan tindakan ke logik dan permainan Android apk balap. Muat turun permainan dan aplikasi Android percuma ke telefon bimbit, tablet atau komputer anda. Untuk melihat Top 10 permainan terbaik untuk Android, hanya menyusun permainan dengan populariti.
OK