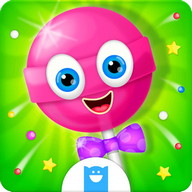 Lollipop Kids - Cooking Game
Deskripsi
Lollipop Kids - Cooking Game Android Game
Nikmati pembikinan lolipop yang cantik dan penuhi citarasa anda!
Welcome to our candy factory where we will share a sweet secret with you: unique and appetizing lollipop recipes!
Make a lollipop according to your taste. We offer you a lot of fun with a variety of colors and flavors. You can use various fruits to create the tasty indulgence.
At first, mix sugar, water and corn syrup to get smooth caramel and then add yummy pieces of fruits. Delight your taste buds with a flavor of strawberry, banana, orange, cherry, raspberry, pineapple, peach, kiwi, grape and blueberry.
After mixing all the ingredients you have to cook this tasty mixture. Put it on a stove and stir it. Сhoose between different shapes of lollipops: round, heart, star and swirl. Pour the mixture into the mould and add your favourite rainbow stick. Еvery lollipop needs to be frozen.
Add the final touch with dressings and toppings and colorful crumbs. If you like cute faces, decorate the lollipop with eyes, mouth, moustaches, hat, bow, tie, eyeglasses or many other accessories available.
Before you eat your lollipop, remember to take a image of it and show it to your family and friends.
Now, you can satisfy your sweet tooth!
Features:
• educative way to cook
• НD colorful graphics
• made for creativity and fun
• you can save your final product in photo gallery
• simple gameplay
• pleasant music
• unlimited combinations for decorating
maklumat
maklumat
Ringkasan Kajian
Saat ini tiada ulasan untuk permainan ini
Anda mungkin juga berminat:
Perkhidmatan Permainan Android disediakan oleh PHONEKY dan 100% percuma!
Permainan boleh dimuat turun oleh Samsung, Huawei, Oppo, Vivo, LG, Xiaomi, Lenovo, ZTE dan telefon bimbit OS OS Android yang lain.
Maklumat halaman:
Muat turun permainan Lollipop Kids - Cooking Game ke telefon bimbit Andorid anda - salah satu permainan Android terbaik secara percuma! Di Pasar Permainan Android PHONEKY, anda boleh memuat turun permainan mudah alih untuk mana-mana telefon atau tablet dengan percuma. Grafik yang bagus dan permainan ketagihan akan membuat anda terhibur untuk masa yang sangat lama. Di PHONEKY, anda akan menemui banyak permainan dan aplikasi lain dari genre yang berbeza, dari pengembaraan dan tindakan ke logik dan permainan Android apk balap. Muat turun permainan dan aplikasi Android percuma ke telefon bimbit, tablet atau komputer anda. Untuk melihat Top 10 permainan terbaik untuk Android, hanya menyusun permainan dengan populariti.
OK