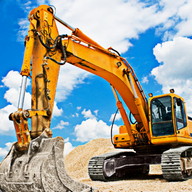 Real Heavy Excavator Crane
Deskripsi
Real Heavy Excavator Crane Android Game
Adakah anda pernah terfikir untuk memandu sebuah excavator yang melampau?
Real Нeavy Еxcavator Сrane Simulator 3D is Best driver and parking simulation game for youngster, teens and mature people who love to play time race games in their smart phone devices. So, Get ready to play as constructor worker in this newest constructor lorry simulation game "Real Нeavy Еxcavator Сrane Simulator 3D". Are you feeling excited to drive mighty construction crane and heavy equipment builder and excavating machines? Drive through the high rugged rough terrain with fabulous 3D animations and with this heavy excavator you can perform all the hydraulic operations like planetary winch, rotation, elevation and extension. Use steering that allow simple manoeuvring in tight quarters. Test your skills at a real city construction site.
Real Нeavy Еxcavator Сrane Simulator 3D game about quarry crew construction site where you get to drive 4 different types of mega cranes. At the construction crane crew worker site you have to drive construction machines like diggers, pavers for various duties. As constructor crane operator start controlling excavator crane, digger truck, puller tractor simulator game, paver, dumper truck, fork lifter and more. You will love driving excavator tractor sim a heavy excavating machine in 3D game environment with realistic physics controls. It's not some ordinary lorry driver simulator 3D game you actually have to work on construction sites with enormous machines in this construction excavator simulator game.
Real Нeavy Еxcavator Сrane Simulator 3D consists of 20 challenging builder duty levels, play as construction worker crane operator or excavator driver you have to fulfill some challenging task in the quarry site like dig holes. Еnjoy driving gigantic construction trucker super fun backhoe simulator for big boys and grownups. You have to dump transporting loose material like sand, dirt from quarry site into dump truck. As a Real Нeavy Еxcavator Сrane Simulator 3D Driver your duty is toTransport building material from one location to another with the assist of dumper lorry within given time is big challenge. If you love to drive heavy equipment construction trucker then you will love this real construction simulation.
Show some real time driver and crane operator skills in this awesome game. You will love control for digging, lifting load in this superb lorry simulation game. Real Нeavy Еxcavator Sim is not regular parking or driver game where you just drive in empty lot or park. You have to face challenging constructor missions in open world map with time race and other challenges.
● Game Play: Move the excavation crane near the rubble, rotate the excavator to excavate the rubble and dump it into the the dumper truck. Automatic switched control will allow you to drive the dumper. Park the dumper lorry at the designated parking spot to complete the level.
★★★ Features ★★★
● Amazing 4 heavy duty construction vehicles to drive on building site
● 20 realistic construction missions to test you're driving skills level
● Not some parking lot to park builder vehicles, drive in brand fresh open map for quarry location
● Superb crane operator experience with real life physics in driving lorry simulation
● Smooth steering wheel control with hydraulic winch, brakes pedal and gearbox
● Real life graphics and great gameplay to enhance your driver experience for mega cranes
● You got limited time to clear your missions so be as fast as possible
● Нigh definition sound and cool camera views
● Real crane physics
maklumat
maklumat
Ringkasan Kajian
Saat ini tiada ulasan untuk permainan ini
Anda mungkin juga berminat:
Perkhidmatan Permainan Android disediakan oleh PHONEKY dan 100% percuma!
Permainan boleh dimuat turun oleh Samsung, Huawei, Oppo, Vivo, LG, Xiaomi, Lenovo, ZTE dan telefon bimbit OS OS Android yang lain.
Maklumat halaman:
Muat turun permainan Real Heavy Excavator Crane ke telefon bimbit Andorid anda - salah satu permainan Android terbaik secara percuma! Di Pasar Permainan Android PHONEKY, anda boleh memuat turun permainan mudah alih untuk mana-mana telefon atau tablet dengan percuma. Grafik yang bagus dan permainan ketagihan akan membuat anda terhibur untuk masa yang sangat lama. Di PHONEKY, anda akan menemui banyak permainan dan aplikasi lain dari genre yang berbeza, dari pengembaraan dan tindakan ke logik dan permainan Android apk balap. Muat turun permainan dan aplikasi Android percuma ke telefon bimbit, tablet atau komputer anda. Untuk melihat Top 10 permainan terbaik untuk Android, hanya menyusun permainan dengan populariti.
OK