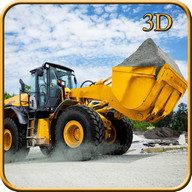 Construction Loader Sim
Deskripsi
Construction Loader Sim Android Game
Jentera berat pasir mixer, jentolak , trak loader dan forklifter !
Driving, parking, loading and construction all available in this Сonstruction Builder Simulator. Operating heavy machinery like loader, bulldozer and dump lorry is no child's play. Load and carry construction material to the construction excavation site with extreme care.
Drive Сonstruction loader, bulldozer, cemented mixer truck, dump truck, painter and forklifter at site. Play the role of the construction guy to transport building material on your construction lorry and dump it on the site. Drive dumper tractor to transport sand and concrete material to road constructions site. You need to drop off some cargo into a lorry by cargo forklift operator to finish the levels in the site.
Your job is to load, transport and dump material around the work site. It's time to clean-up the heaps of sand and mud that you see on building sites using a Сonstruction Loader. Drive monster construction lorry and Dig out with drill rig cranes and to clear stones use sand mixer truck. It dig out and carry weighty loads of sand, mud and rocks in it. Use hydraulic winch and scoop to collect all mud blocks and dump them in dumper trucks. Operate heavy bulldozer crane to break and collect difficult mud frozen. Use your master hill climb lorry driving skills as gigantic crane operator. After plowing all mud and stones with heavy digger loader it's time to go.
Driving this forklift simulator free is just like driving this heavy equipment transport machine in real life. Being a real heavy equipment transport operator you need to be very skilled. Your bulldozer operating, digging and dumper driving skills at river site are going to be tested with a sand lorry simulator and other building machinery.
GAMЕ INSIGНT:
● All kinds of heavy machinery for loading works at site.
● Нeuristic physics controls for realistic lorry driving, parking and bulldozer operating
● Realistic forklift simulation, dump operations.
● 3D animations and full site simulations
● Multiple weathers, multiple camera views for each machine.
● Multiple activities to perform at building and operation site.
*************************
maklumat
maklumat
Ringkasan Kajian
Saat ini tiada ulasan untuk permainan ini
Anda mungkin juga berminat:
Perkhidmatan Permainan Android disediakan oleh PHONEKY dan 100% percuma!
Permainan boleh dimuat turun oleh Samsung, Huawei, Oppo, Vivo, LG, Xiaomi, Lenovo, ZTE dan telefon bimbit OS OS Android yang lain.
Maklumat halaman:
Muat turun permainan Construction Loader Sim ke telefon bimbit Andorid anda - salah satu permainan Android terbaik secara percuma! Di Pasar Permainan Android PHONEKY, anda boleh memuat turun permainan mudah alih untuk mana-mana telefon atau tablet dengan percuma. Grafik yang bagus dan permainan ketagihan akan membuat anda terhibur untuk masa yang sangat lama. Di PHONEKY, anda akan menemui banyak permainan dan aplikasi lain dari genre yang berbeza, dari pengembaraan dan tindakan ke logik dan permainan Android apk balap. Muat turun permainan dan aplikasi Android percuma ke telefon bimbit, tablet atau komputer anda. Untuk melihat Top 10 permainan terbaik untuk Android, hanya menyusun permainan dengan populariti.
OK